"Just your average girl next door"
The Life of Connecticut's Marilyn Chambers
"My life could have been a lot fuller. You know, I was never really super-happily married, I didn't have a big family that I wanted, I didn't get to experience . . . I don't know. I've always thought of myself as just an everyday kind of a person, and I made myself into a 'star' and that's how I had to live. But there also comes a time when you've gotta say 'Thank you, goodnight.' I'm a little bitter. I think things should have gone differently in some instances that didn't. But you know what? I had a great run, I had a good time, and a lot of people are making a lot of money off my name. Maybe I'll open up a geriatric home for old porno stars." Marilyn Chambers
Marilyn Chambers, one of the world's first and last porn stars was born Marilyn Ann Briggs and Marc Lane in Westport, the youngest child of William Briggs, an advertising executive, and Virginia Briggs, a nurse. For all given purposes, or at least based on what the public knows, her early life was comfortably upper middle class and mundane. Her older sister and a younger brother followed a normal, predictable path into adulthood and Marilyn's early years were similar. She graduated from Staples High School, where she was a cheerleader and a member of the Staples Players, the schools above average acting troupe and landed parts in several school musicals. She was also an accomplished gymnast and champion diver at the Patterson Club.
She began to skip classes and journey down to New York to audition for acting and modeling jobs. Against all odds she was hired to play the role of Robert Klein's girlfriend in
The Owl and the Pussycat
, a big dollar film production starring Barbra Streisand and George Segal.
The Wilhelmina modeling agency picked her up and got her a photo shoot as the young mother of an infant on the box of Proctor & Gamble's Ivory Snow, which sold itself as "99 44/100% pure" and more work came from Clairol and Coca-Cola.
At 19 Marilyn Chambers looked like a girl who had the world on a string, but all was not well. According to friends, her home life was empty. Her parents were deeply involved in their own lives. She was alone a lot. Her father was a womanizer who carried on openly with several women including a neighbor. He eventually left his wife for the mother of one of Marilyn's classmates but remarried again after the other women died from a brain aneurysm.
Marilyn began to unwind little by little. In her junior year, she was tossed off the cheerleading squad for drinking. She became desperate for attention.
"She had" an old boyfriend recalled "an overwhelming need for attention and great gobs of it. I mean, she just doted on anyone who paid any attention to her at all. And, of course, it was inevitable that the male animal was going to look at something so young and nubile. Anyway, we went to a party one night, and she went off with somebody else, and that was pretty much the last time I was with her."
Her role in The Owl and the Pussycat got her an actors card in the Screen Actors Guild and in 1971 Marilyn and friends from Westport drove out to California where the films are made. Marilyn found her way to San Francisco
What probably brought her San Francisco and not LA was a film she had done in 1970. Chambers got a role, a nude scene, in a legitimate if low-budget film, called Together. appearing under her real name, Marilyn Briggs. The film was directed by Sean Cunningham (Who later did Friday the 13th and Spring Break) and was filmed primarily around his house in Westport.
Reportedly, the porn producers Artie and Jim Mitchell saw the film, were knocked by Chambers wholesome Cybil Shepherd looks and offered her a film they were planning called Behind the Green Door. They also changed her name to Chambers. The fact that she was already The Ivy Snow Girl, seen on hundreds of thousands if not millions of soap boxes, was extra icing on the cake.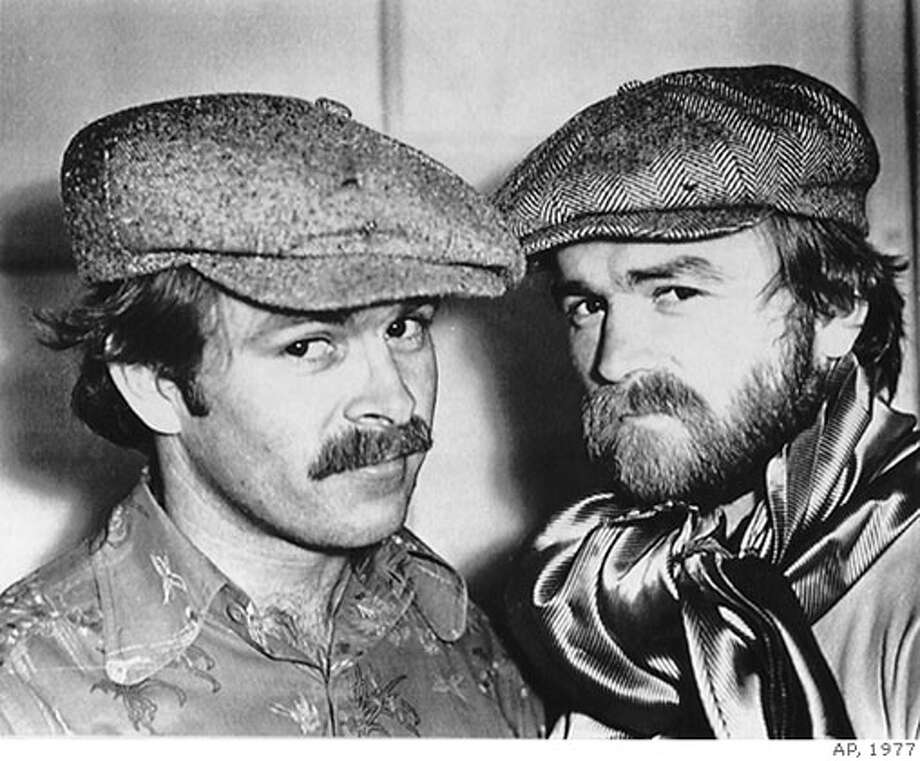 In Marilyn's version of what happened "I moved to San Francisco thinking it was the entertainment capital of the world, which it is indeed not." She met Doug Chapin while he was playing bagpipes for money on the streets. They married just a few weeks later. There were no other film offers after that and Marilyn held down a series of odd jobs that included topless model and nude dancer in a men's club. One day she answered a casting call advertisement in the San Francisco Chronicle for a "major motion picture" being made by the Mitchell brothers.
She said that at the audition she realized it was a part in a pornographic film and was about to leave when the Mitchell noticed her resemblance to Cybill Shepherd and talked her into taking the lead role in the film, which she did after negotiating a contract for $25,000, plus a percentage of the profits. The film cost about $50,000 to make and grossed well over $25 million, although Marilyn saw pitifully little of that cash.
In the film, she played the silent role of a woman kidnapped and forced to perform sexual acts with men and women. She was 19 years old when Behind the Green Door was released to sold-out theaters. Only a few months before Deep Throat had been released shooting Linda Lovelace to dubious fame. It was the beginning of the short-lived, so-called, Golden Age of Porn. Ivory Snow sales went through the roof.
A high school friend who was visiting Chambers in California right after Green Door was completed recalled "When I walked into the apartment, she said, 'Come here, I've got to show you something. And she opened this envelope with the proofs of the Ivory Snow girl and the check she had gotten, and she said, 'They are gonna shit when they find out what I'm doing.' They put those boxes on the shelves literally when she got that check and she went out and bought all of them from her local grocery store. I mean, she had boxes of Ivory Snow until she died. I think she knew it would be a huge controversy."
Procter & Gamble replaced her photograph immediately.
In 1974, at the height of her of porn popularity, Chambers divorced Chapin and married Chuck Traynor, who was recently divorced from Linda Lovelace. For the next ten years, Traynor acted as her business manager and agent who took half of her film profits as a commission.
Traynor had an awful reputation in the business, most of it gained from his former wife, porn star Linda Lovelace who claimed Traynor stole her money, placed guns to her and viciously beat her although Chambers never reported any bad behavior from him.
Traynor did make attempts to bring Marilyn closer to the mainstream. In 1976 he arranged for Marilyn's Playboy shoot and in 1976 she had some limited exposure with the disco single Benihana.
In 1979, Marilyn was chosen to play a role in the mainline film City Blues, about a young hooker defended by a down and out lawyer, played by the magnificent actor Rip Torn. The film was to be produced and directed by Nicholas Ray (Rebel Without a Cause) but by then the 68-year-old Ray was too addicted to drugs and drink to complete the project.
Rip Torn, Ray and Marilyn
A year before that Jack Nicholson and Art Garfunkel (Below) brought her in to talk about a role in Goin' South. According to Chambers when she arrived for the interview Nicholson and Garfunkel asked for cocaine and wanted to know if her orgasms in Behind the Green Door. Furious, Chambers stormed out of the meeting, or so she says.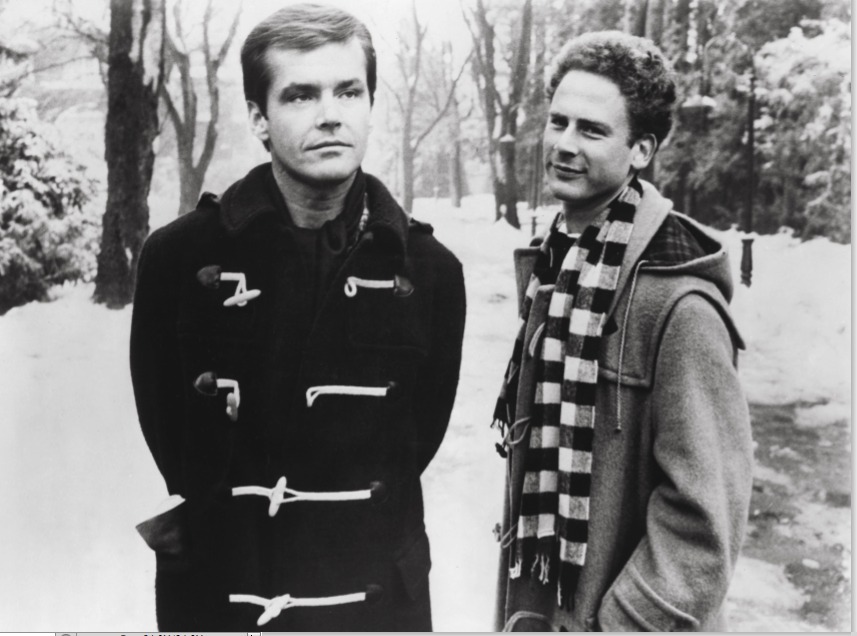 She was briefly considered for a lead part in Hardcore, opposite George C. Scott, but the casting director determined that she was too wholesome looking for the part.
"I thought," Chambers said "that there was a chance to cross over. Boy, was I wrong."
"The paradox was" she added "that, as a result of Green Door, Hollywood blackballed me, [Green Door] became a very high-grossing film...But, to a lot of people, it was still a dirty movie; for me to do anything else, as an actress, was totally out of the question. I became known as a porno star, and that type of labeling really hurt me. It hurt my chances of doing anything else".
In 1985, while making public appearances, she was arrested twice for allowing audience members to touch her with their hands and mouths during her show. By then Chambers was well on her way to becoming addicted to alcohol and cocaine. Five years later she married William Taylor, part-owner, and driver in a freight trucking company. The couple met in rehab. They divorced in 1994.
By 2000, Chambers world was completely changed. Chuck Traynor was dead from a heart attack. In 1991, Jim Mitchell shot and killed his brother Artie and went to prison. He died in 2007. She still made porn films, but the big dollar days were over, and Marilyn was forced to hustle work as a nursing assistant in a retirement home.
She signed autographs at porn conventions and to keep herself in the public eye, Chambers ran for Vice President in 2004 (Personal Choice Party) and in 2008 (Boston Tea Party)
Marilyn at her 30th High School Reunion in Westport.
She would spend almost three decades battling alcoholism and drug addiction and waiting for her chance to break out into legitimate film. She and her third husband, Bill Taylor, shared custody of their 17-year-old daughter, McKenna Marie Taylor, and to be closer to her, Marilyn leased a mobile home outside of Santa Clarita, where McKenna was living with her father.
Money was tight. Years before she had bought dozens of boxes of Ivory Snow that pictured her on the cover. Chambers signed them and sold them on eBay. So, using the name Marilyn Taylor, she took a job as a clerk in a local car BMW dealership making about $1,200 a week before taxes.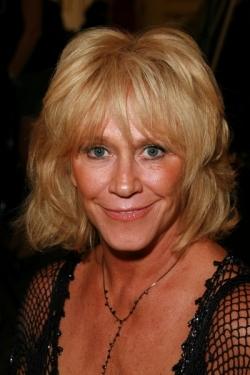 There were no men in her life.
"I
felt
" a girlfriend of hers said later "that a few people in the later years took advantage of her just to say, 'I just slept with Marilyn Chambers,' and led her on and then blew her off, and she was hurt, really hurt."
Just before she died Chambers auditioned in New York for The Deep Throat Sex Scandal, a play about the making of the film, Deep Throat, and its obscenity trial. She was hired on to play the role of Shana Babcock, Linda Lovelace's best friend who constantly advises the Lovelace character to leave the abusive Chuck Traynor. Marilyn planned to quit her clerk's job at the car dealership after she got another part, in a small part in a low-budget film, Solitaire, playing the role of a Rhode Island cop. She wouldn't live to see the finished production.
On April 14, McKenna Marie Taylor, Marilyn's 17-year-old daughter from her third marriage to trucking executive Tom Taylor, found Marilyn's body in her trailer in Santa Clarita. A brain aneurysm killed her. She died alone and had been dead for at least two days before she was found. She was 56 years old, ten days away from her 57th birthday.
A memorial service was held, attended by at least 200 people, most of them from the Alcoholics Anonymous and Narcotics Anonymous groups she belonged to. A few days after she was cremated someone apparently broke into Marilyn's trailer and ransacked it. Files, her will, and jewelry seem to have been taken. Aside from a $20,000 life insurance policy for her daughter, Chambers died broke. Her mobile home was returned to the dealer; her economy car was nearly worthless.
Her ashes were scattered at sea.