A ten minute play in five scenes
| | |
| --- | --- |
| | A military enlisted man. He is in uniform. |
| | She is dressed in peasant clothes |
| | Daughter of Grandmother Calderion, she too is dressed in peasant clothes |
| | The daughter of Maria Calderion |
| | |
The mountain regions of El Salvador. The characters meet in a muddy field that was once a village
1982, one year after the El Salvadorian civil war is ended.
This is based on actual events. In 1981, the Salvadorian army wiped out several villages exactly as detailed in this play. Only one person was arrested in connection to the murder of those 1,500 villagers. An enlisted man who returned to collect the skulls. Generalissimo Maximiliano Hernandez Martinez actually lived and died as outlined here.
From Wikipedia, the free encyclopedia
The El Mozote Massacre took place in the village of El Mozote, in Morazan, El Salvador
on December 11, 1981, when Salvadoran armed forces killed at least 1000 civilian in an anti-guerrilla campaign. It is reputed to be the worst such atrocity in modern Latin American. The massacre was a low point in the Salvadoran Civil War that ravaged this Central American country between the late 1970s and 1990. As news of the massacre slowly emerged, the Reagan administration in the United States dismissed it as FMLN
propaganda because it seriously undermined efforts by the U.S. government to bolster the human rights image of the Salvadoran government, which the US was supporting with large amounts of military aid.
Go away old woman; this is not your concern
Why are you taking the bones of the dead? At least in death give them peace and respect!
Sergeant Salgado (He shrugs and looks around)
You hear them complain (He pauses and cups a hand over his ear) No. No complaints. (He lifts a skull from his bag) Do you know how much money I get for these skulls in San Salvador? (Beat) A lot of money. A lot. I sell them as candleholders and good luck charms. The skulls from the children sell the best. Especially the infant's skulls. You get more for them. I remember you had many infants here in your village of El Mazata. (He puts the skull and shovel down and looks around the ground) I came back here a year after we did this place. (He pumps his closed fist in an almost sexual way) You know, just to see, I don't know to see what...but just to see. How long ago was that? One year almost two years ago....and nobody talks about it. It's almost as if it didn't happen. That's why I came back here the first time...to make sure it really happened. We threw all bodies in a hole and covered it (He points to a hole) but the rains came and on that day you could see all those bones sticking out from the ground, hundreds and hundred and hundreds of bones...ribs and wrists and legs and feet...and (He picks up a skull) skulls. I took a few, you know, to give to my buddies in the unit so they could remember us here. They sold them. They came for more. So I come back here, you know, two three times during the rainy season to collect my skulls.
Now go away old woman, this is no your concern
Grandmother Calderion (Waving her arms in a sweeping motion)
This is my village. This is my concern
Sergeant Salgado (Waving his arms in a sweeping motion)
What village old lady? Are you crazy? There is no village here anymore. It's gone. Burned to the ground. There is nothing here. The jungle grows over everything.
Grandmother Calderion (Waving her arms in a sweeping motion)
Sergeant Salgado(Exasperated but waving his arms in a sweeping motion)
Your village is gone. We destroyed it
Sergeant Salgado finds a skull and happily places it in his bag
Grandmother Calderion
Are you so stupid old women? You know nothing? Us, the army. The saviors of El Salvador.
We did it. (He points to his arm patch) The Atlacatl. Do you know us? We are the most elite unit in the entire army. Maybe in all of Latin America. We called RDI, Rapid Deployment Infantry. We were specially trained in counter-insurgency. Do you know who we worked for? (He pauses and waits for an answer) Special operation office of counter-insurgency warfare. La C-a, the CIA, Our officers were trained at the War College in Washington DC. The capitol of America. That's how important we were. With out us, El Salvador would fall to the communists.
Her daughter, Maria Calderion, enters and stands beside her.
Why did you destroy our village...why did you kill all the people?
Go away woman, this is not your concern
I come from this place. El Mazata is the village of my father's father's father and his father before him. Why? Why did you do this?
Sergeant Salgado (Digging and looking at her)
Why? Our officers told us too because the United States told them too and it was a den of communist snakes (He steps hard on the ground) and we broke their necks. (Stops and looks at her) And after El Mozote, your village, we went to the other villages nearby, La Joya, La Rancheria, Jocote Amatillo y Las Toriles and Cerro Pando and we killed all the snakes there too. We showed those bastards. We taught them all a lesson!
There were no communists here. Only simple farmers and field hands. We are so remote from everything here. No one wants us. Not the government or the communists. No one.
Then why was this zonas rojas? A red zone. I remember that we drove out as far as we could on the main road (He points to the main road) They entire Battalion was out there. But this village was at least twenty miles off the main road. We followed a dirt path that hugged the side of a mountain to get there. It was the summer. It was very hot that day. Our comandante told us that it was filled with rebels. That was why the people there would not support us.
The officers told us that El Mozote was the worst. They said it was filled with insurgents and everyone in the village who did not carry a weapon against us and El Salvador supported those who did. We left in the early morning. We shot the animals we saw along the way and smeared their blood on our faces. As we came closer to the village, we sang the Battalions song "Somos Guerreros":
We are warriors!
Warriors all!
We are going forth to kill
A mountain of terrorists!
Grandmother Calderion (Standing in the village)
Many of the towns and villages around us were empty because of all the killing and fighting between the army and rebels. Whole villagers left together to Honduras, which was just over the mountains from us. You could live in peace there. When things were very bad, when the fighting was the worst, the entire village would hide in the caves in the mountains until it was over.
Maria Calderion (Standing in the village)
Mostly the rebels went by our village only at night and left us alone. We knew they were going by us up in the hills. The dogs would bark. But they came once in the day to look for recruits from the young men. There were only a few of them. They were ragged looking young men, unarmed in civilian clothes. They held a meeting in our church.
Nobody went to the meeting. All the people in the village agreed, they said "don't go, don't get involved. Let's just live and work and not get involved." So after that, the rebels never came back to our village.
Then why was it a zonas rojas? My officers don't lie.
Sergeant Salgado, snaps to attention and salutes
I remember you. You are him. The Generalissimo. When I was a girl, you were President.
Maximiliano Hernandez Martinez snaps to attention and salutes with his swagger stick
The Generalissimo (In full uniform including hat)
Generalissimo Maximiliano Hernandez Martinez, at your service
Grandmother Calderion
I remember you. You ordered the execution of 30,000 Indians.
The Generalissimo(The smile falls from his face)
No! You are wrong! It was an act of war, I was a solider who defended my nation. (He turns to the Sergeant) The farmer workers were incited by communists to seize land that did not belong to them.
Grandmother Calderion
No! That is not true. They seized our land. With the army.
The Generalissimo
The lynched landowners and murdered them. They rape their wives and burned their children
Grandmother Calderion
No! That is not true. They murdered us. They raped us. The Americans, their President Roosevelt threatened to send in American soldiers if you did not stop the killing.
The Generalissimo (To Salgado)
It's not true. Mr. Roosevelt was upset because I found many fine attributes in Mr. Adolph Hitler.
Grandmother Calderion
You fled to Honduras, and became a landowner. One of your field hands hacked you to death
Because you raped his daughter
The Generalissimo (To Salgado)
Grandmother Calderion
Don't be so stupid woman. If he was killed, how could he be here? (He looks at the general) So stupid.
The general nods in agreement
The Generalissimo
What was your Battalions mission called?
Sergeant Salgado (saluting)
Operation Rescue, Generalissimo
The Generalissimo
Rescuing El Mozote from the communists. Our objective was to eliminate the rebels from the northern Morzan region. Intelligence showed they had a camp and training center in the region staffed by Cuban military
The Generalissimo
Did you succeed in your mission?
Yes my general. We killed one thousand two hundred suspects. Now, there are no communists in the village of El Mozote
But there is no one in the village. You killed everyone in the village!
The Generalissimo
True but there are no communists there either. Good work Sergeant.
You killed those women, the Nuns and the others. The Ginga's.
The Generalissimo
Communist bitches from America, my General.
A Catholic missionary and four Nuns. The army kidnapped them. They raped them and they executed them.
The Generalissimo
They were sent into the slums to arouse the brutality of the Indians who now surround San Salvador (He points to the women)
Maria Calderion (Pointing to the two men)
And you are not like us? You are not Indian. Doing the work of the rich white people?
The Generalissimo
Indian....a terrible word. We are (Beat) Indigenous. (Turns to Salgado) It's such a better word No?
They were agents a troublemaker. a Priest. Oscar Romero. An Archbishop. We took of him too (He forms his hand into a gun and points it at his temple and shoots)
The Generalissimo (Sighs deeply and pats Salgado on the arm)
It is not easy to defend democracy
Archbishop Romero spoke for the poor!
Sergeant Salgado (To the general)
The Archbishop demanded the appointment of his priests to our government.
So you killed him? For that?
Sergeant Salgado (To the general)
He was killed by persons unknown
The Generalissimo (Sighs deeply)
Maria Calderion (looking around)
Everything is gone. The church, the school. Everything. That afternoon everyone in the village was called to a meeting in the church by Senior Marcos Diaz, the richest man in our area.
Enter Senior Marcos Diaz in a white suit and panama hat. Maria smiles at him in wonder and glee. He smiles back at her
He owns all of the fields where we worked. The entire village was there.
Grandmother Calderion (Walking out of the village)
I didn't go. I despised Marcos Diaz. He was a pig.
Marcos Diaz frowns at her
Grandmother Calderion
When my daughter was a girl, a very young girl and he was a young man, he came to the fields and he took her to his home. He raped her. She gave birth to Maria that year. He could do anything he wanted. It was his land. He had many friends in the government and so much money. He could do anything that he wanted to do. She looks back disdainfully at the image of Don Diaz
Maria Calderion (Looking up at the image of Don Diaz)
Don Díaz told us that he had just returned from his regular buying trip to the city of San Miguel and was told by one of the officers, one of his friends, that the army planned to close down the entire region. He said that no one would get in or out of the region but that people of El Mozote would have no problems, in so long as we stayed where they were.
Grandmother Calderion (Speaking as she walks from the village)
I didn't trust him. As I said, Don Diaz was a pig. I told my daughter as much but she would not listen to me. She believed him and so did most of the elders in the village. So they stayed. I told her I would take Maria, her daughter and that we would go to wait in the caves in the hills. That afternoon Don Diaz was organizing the villagers to spread out across the region and bring the people the people from the outlaying areas into our village where he said they would be safe against the army's rounding up of suspected rebels. I took Maria and pretended to go out to the nearby regions and bring in our relatives into the village where they would be protected. As we were leaving, Marcos Díaz, the pig gave us a basket of food and he told me to tell my relatives that he personally would see to it that all of the newcomers to the village would have shelter and food. He was smiling. So I took Maria and we hid in the caves. When we were leaving, I saw a helicopter over our village and I saw the soldiers passing by in long lines.
In the morning of that day, the army fired mortars into the village and helicopters and planes fired down on us. We all hid in our houses. We could not escape because the soldiers were waiting for us
Sergeant Salgado (He enters the village, rifle at ready)
We came in the village in the afternoon. We already gad prisoners from the village that had tried to escape. We puts ropes around their necks and dragged them in behind us
Then we pounded on the doors with the butts of their rifles "Salgan!"
They shouted angrily. "Get out here! Get out here now!" We came out slowly, we were
frightened, unsure of what was happening. The soldiers, cursing and yelling, pulled us in to a circle and hit us with the butts of their rifles. They herded everyone into the center of the street. They told us all to lie down in the street screaming at us, boca abajo"
get your mouth down. All the children were crying. The noise was almost too much to bear. The soldiers marched up and down the lines of people, kicking us and striking another with a rifle butt, and all the while keeping up a steady rain of insults and demands. "Who were the guerrillas? Where were they? Where did they hide their guns?"
Sergeant Salgado (Smirking)
They cried, they screamed, and they begged that they didn't know. It just made us angrier. All of those sons of bitches were collaborators. They loved their rebels? We
Would make them pay for their love. He jabs the rifle at invisible townspeople
I remembered that when I looked up I saw Don Díaz. He was dressed in white and standing next to the officers. He saw me looking at him but he only looked away. The soldiers took down our names. As they went down the along the lines asking our names they pulled off our rings and other jewelry and out it in their pockets.
Sergeant Salgado (Acting out the lines he speaks)
We separated the men from the women and marched the men into a small church that in the center of the village, and then we pushed the women and the children into the larger houses off the square. We blindfolded the men, tied their hands behind their backs, and marched the out into a field just past the village. When they understood through…I don't know…the voice of the devil maybe…that we would execute them, they tried to run, but there was no place to go and we all had M16's, a very good rifle, very fast to fire. They fell so fast and so silently. It was beautiful in a way. We walked up and down the rows of the corpses and put a single bullet into each man's brain. That took most of the afternoon because their were many of them, hundreds I think and then we still had to deal with the women and children.
They killed all the men, one after another and then it was silent. They marched us out of the houses and into the church. From the corner of my eye, I watched a soldier take his out his machete. They all had machetes. There was the woman from the grain mill in town. She was old. She tried to run to her husband and sons. The soldier with the machete knocked her to the ground. He bent over them, grasped her hair, jerked her head back sharply, and beheaded her with strong blows to the backs of her necks.
Sergeant Salgado (Looking admirably at his machete)
I had to laugh because her neck was thick, twice I hacked her before it came off. He swings it down twice. The officers told us to blindfold the women and lie them face down on the church floor. Then they interrogated them. We stepped on their backs and pulled their hair back. They talked. When one of them admitted to being with the rebels, our officers made one of act as a witness to their confession. We were ordered to remember their names for later. Finally, the officers said that it was enough. We chopped all their heads off, one by one, tossed their bodies into a pile, (He chops and swings and tosses) and set it afire inside the church. It took a long time and chopping off heads, is very hard work. (Smirking)
Maria Calderion (Sergeant Salgado takes her by the wrist)
When they came for me, I said (She falls to her knees)'please don't do this' but the soldier, he was very young, he hit me in the mouth with his rifle and threw me to the ground. He hits her and throws her to the ground. I prayed to our mother Mary in heaven to remember my soul. He pulled my hair back and he chopped my head off. (He takes out his machete and swings it down)
We stayed in the caves above the village, where I used to play in as a girl. You have to be from the village to know where they are so I knew we would be safe from the soldiers there. We were we stayed their for two days, in the dark, without food or water, with the snakes. When it was over I could hear them ransacking what was left. They took everything. All the food from the store was gone. They, the soldiers must have sat and had soda afterwards because there were empty soda bottles everywhere on the ground. I remember hearing the bottles clinking. That was one of the sounds I heard when I laid in the cave with Maria, my hand over her mouth. I heard the crackling of the fires and bursts of gunfire. In the hills very close to where we were is where they took some of the girls and raped them. You could hear them screaming 'Mommy! They're hurting us! Help us! They're cutting us! They're choking us! Help us!' She slowly and carefully walks from the cave When I walked down the hills later I saw their bodies, their skulls were crushed. Their throats were slashed. They were all naked and smeared with blood. They left the other dead unburied. Many of them were crushed and buried under the roofs of the village buildings, which were all burned. There were other bodies in the fields, the bodies of those who tried to run away. That was as far they got, to their fields. Within a few days, the bodies were bloated and purple. I went into the church and it was covered in brown, on the walls and the floor. Everywhere. I thought it was dirt but I realized it was dried blood. All of the houses were on fire. Piles of bloody corpses were everywhere. I couldn't move, couldn't even cry. Everything was dead there -- animals and people all mixed together. Vultures were everywhere. You couldn't stand to be there, because of the stink.
Sergeant Salgado (Smirking)
He stands and throws out his chest and sings
We are warriors!
Warriors all!
We are going forth to kill
A mountain of terrorists!
Sergeant Salgado (To the general)
Mostly we killed the old people and the very young. The very old and the very young can't run very fast. They make easy targets.
What happened to you and the other killers? You paid for your crimes I think?
Nothing happened. It wasn't officially reported for ten years. By then, nobody carried about a few dead Indians in the mountains. No one was ever arrested for El Mozote. We were all given amnesty after the civil war ended. (Turning to the general) The Pro-patria still rules. They never left power. Really, nothing changed. The Alianza Republicana Nacionalista still runs El Salvador.
The Generalissimo (Placing his arm gently around Salgado)
Do you know that I started the Alianza Republicana Nacionalista?
Maria Calderion
Civil war? There was no civil war. There was an uprising by the poor people against the landowners and against you
Maria Calderion
the military that has run our county
Maria Calderion
in one dictatorship after another for a century.
Shut up or I'll kill you!
Maria Calderion
Kill me? I am Maria Aguirre. I am already dead. (She points to Sergeant Salgado) You killed me.
Sergeant Salgado (terrified but angry, he turns from her)
Shut up woman, I didn't even know you.
Maria Calderion
And I don't you. And I know why you killed me. I don't know him and I did nothing to you. But you cut my head off and threw it into a fire. (She points to where the fire was) You don't remember? I begged you.
Sergeant Salgado (He points to the bones)
The Generalissimo looks at Maria and nods in agreement
Maria Calderion (appalled)
You took my life and you don't remember?
Sergeant Salgado (Looks at the ground, he won't or can't look at her)
I can't remember all their faces
The Generalissimo looks at Maria and nods in agreement
You killed me too. You shot me.. Our village was gone. I could not find my daughter's body to bury her. (She shifts threw imaginary debris and she starts walking) I took little Maria by the hand and we walked towards the main road, the black road with the cars. But when we came to the open field, the army was waiting, they were hidden in the grass like snakes.
You stood up and shouted "Fire" and you killed me. I threw myself on my granddaughter
And she lived. I died holding my hand. You killed me with a bullet to the head. I don't know why you even bothered. I was dead already in some different way.
Sergeant Salgado (swinging his rifle at them)
Salgado falls to his knees and blesses himself
The Generalissimo (Chuckling with the women)
Oh, it is much to late for that, Sergeant. (He picks him up from his knees) Now you come with me.
The Generalissimo (taking his arm)
He leads him away. The women stand and watch. Light fades.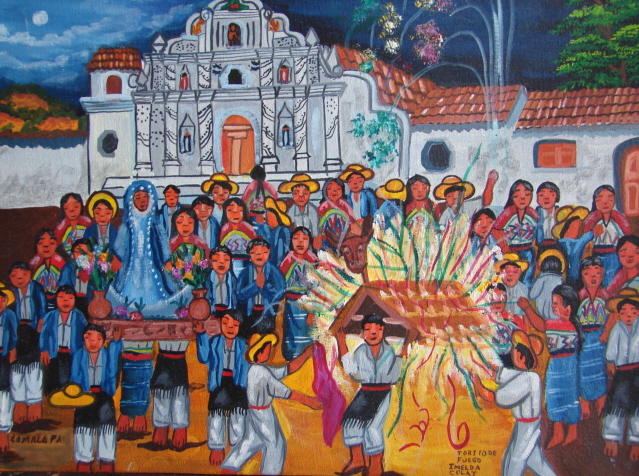 The three lives of Maria Calderion
A ten minute play in three scenes
| | |
| --- | --- |
| | |
| | |
| | He or she has lent money to Aurelio Gonzales |
| | |
The Mexican border town of Naco
PRODUCTION NOTE: Naco Mexico is across the street, and the border, from Naco Arizona
Inside a Border Patrol Station in Naco, Arizona. Aurelio Gonzales sits in a chair. He is handcuffed. His leg is in a cast. Border Patrol Commander Manuel Manjarrez is standing over him
US Border guard #1 on the radio (VO)
We got a group of 25 on South Hereford Road down by the San Pedro River. Over.
US Border guard #2 on radio. (VO)
We got a group of 18 walking across a private ranch. Rancher put the dogs on em, over.
Manjarrez (To Aurelio Gonzales)
It will be like this all night
He reaches over and takes the handcuffs off Aurelio Gonzales whose hands were behind his back. He cuff one arm to the chair arm
My father walked across. Almost fifty years ago, more maybe. Things were different then. The border was not like it is today. Such a crazy place. Of course that's just what's gonna happen when you got yourself a Third World economy to the south and a First World economic power to the north, you get problems like this.
Silence. Manjarrez pours them both a cup of coffee.
You know, to this day, when I drive to my father's house, he walks out on the front porch and yells "Viene la Migra!" ...the Immigration is coming.
Silence. Manuel Manjarrez is still holding the coffee.
All the time I hear the same thing "My brother, you are one of us. Why don't you let us go? And I say the same thing all the time, I am just doing a job. (Beat) I'm doing my job and maybe I can help you if you talk to me. Tell me what happened. Because I know that El Carpintero was a snake. He was always a snake. I knowed him since he was boy, and he was no good then. Ambitious as hell though. I remember one week I arrested him five times. Imagine that? Five times in one week. It's like catch-and-release fishing. He was dangerous too. Hell, I guess all the Coyotes are dangerous. We find the bodies of illegals all over the place all the all the time. This is one of the few times we have a murdered coyote.
Aurelio Gonzales looks up at Manjarrez and takes the coffee
He killed my daughter. (Beat. He takes a sip of coffee) My name is Aurelio Gonzales. I am 52 years old. I am a farmer in Durango, Mexico. I have 40-acre farm in Durango, but half of it is covered with cactus, and the beans I grow earn me less than $5 a day. I have six children and a wife. It is not enough money. I owe my debtors 50,000 pesos that would be...what? How much for you? Five thousand dollars I think. I make less than five dollars a day. They come to me everyday, all of the days
Gonzales, I want my money or I take your farm!
I sold off bits and part of the land I had, but soon it will gone. And then what? My other choice is to go to America. My wife said
Go! If you do not go, we will starve
So I borrowed more money. Three hundred dollars, America and I found a coyote. But he said
No my brother. No more for $300. The border patrol has put up lights and cameras everywhere. Extra agents. Now it is $400.
Aurelio Gonzales (His daughter stands beside him)
I have a daughter Carmen. She is twenty years old. She came with me. So I paid the coyote $800 American. It is a lot of money. A lot of money. But I have a sister in Phoenix Arizona. She said I can work and make one thousand...one thousand...dollars a month. One thousand dollars a month. Just for working! (He and his daughter put on coats and backpacks)
It will take a few hours to get across the border
We arrived by bus in Naco, in Mexico, near the border, where the guides were waiting at the bus station. They took us to a hotel. We waited there for two days. Then in the afternoon, we were taken to a ranch, and at around 7 in the morning, we started walking. We walked for two days. They lied to us. They lied to us about everything. We came to the border at 15 hours later. We were less then half way from where we paid our coyotes to take us. We cross the border at ten o'clock at night. It was dark in the desert, we were running, I fell and twisted my leg, and even with my daughter helping me walk, we had trouble keeping with the coyote and the others in the group. We had to stay with them. We were in the desert and we had no map, nothing. The next morning we arrived on Highway 90. Our coyotes said
We're going to go and get a car wait here
Aurelio Gonzales
But they never came back. We sat and waited in the sun. Hours went by. The border patrol came. We were too tired to run. Four hours later
(He walks to a sign that reads Naco, Mexico)
He hangs his head and walks past, El Carpintero, who is hanging around, watching the Mexicans being brought back.
Pssst. Don't give up, my brother. There is a better place to cross. I know where it is. I can take you there. (defeated, Aurelio Gonzales and his daughter walk away, heads down.)
I have nothing to pay you with. I will go back to my farm and work
Where is your farm my brother?
Durango? It's good land in Durango. How big is your farm?
40-acres? Maybe I can help you, my brother. Let me think. Give me a moment.
El Carpintero slowly walks stage left. A passing Mexican waits for him to do a circle around the stage and then grabs Aurelio Gonzales y the arm.
Stay away from El Carpintero, my friend! He is a snake. I paid him $2000 American.
He led us across the river for a fee. When we got to the other side, his brother was there with a rifle and he robbed us. Now I am stuck here forever. Stay away from him!
El Carpintero (To the audience)
It's going to cost him anywhere from $1,500 to $3,500, sometimes less or more. If they don't have the cash to pay me, I take the deeds to their land, their farms, their houses, animals whatever they have. I own three farms in El Salvador. I rent them out. I have houses too. I rent them as well. (He turns to Aurelio Gonzales)
My brother! I have good news! After serious consideration of your plight, and with out conferring with my business associates and I have decided to break a major rule and will accept, but only this one time, the deed to half of your property, twenty acres. (He raises and open hand) Stop! Stop! Do not thank me, or I will change my mind. (He shakes his head) Maybe I am too soft in my heart to do business. But I see a man like you, in such distress, as a child Jesus, what else can I do?
Aurelio Gonzales daughter pulls her father closer and whispers in his ear.
Aurelio Gonzales
Perhaps I should think it over.
Ah! My brother. This is a one-time offer. It expires here and now. Why if my business associates were to find out I even made such an offer.......If you think like the Salvadorians who come here thinking they can shop around for a better price because we are Mexicans, you can forget it. The price is the same. There are always a lot of people who need to go north, so they keep setting the prices higher. The Border patrol put up stadium lights and video cameras at three-mile intervals down the line, and they have agents, spotters with binoculars, every couple of thousand feet to see anyone who crosses. Sometimes, in fact a lot of the times the people panic when they see the border patrol coming. They scatter in all directions and then they get lost in the desert. You get lost in the desert, you're going to die. It's that simple. ....you have to know what you're doing out there. In the summer, rattlers come out at night to lie on warm stones. In the dark, and it gets real dark out here, let me tell you, people step on them all the time. You're only going step on a rattler one time, let me tell you. In winter, temperatures drop below freezing. Hundreds of people like you die every year trying to cross over, my friend. A lot of them drown because they try to cross the canals or the ditches after they flood. They can't swim. They go down, they don't come back up. Sometimes you see the bodies floating down the canals. The canals are so polluted with toxic chemicals and sewage of human waste, they figure the border patrol won't jump in and pull them out but what happens is they choke on the garbage or the chemicals or both and they die. Dehydration kills a lot of them because in the day, the temperatures in the desert can hit 115 degrees. More die in car accidents because the polleros shove them into vans and car trunks, stack them like plywood, the cars crash because the driver never drove a car before or they try to outrun the border patrol. The border patrol kills a lot of them, guns fights, shootings....Vigilante groups roam the borders. Some of them are heavily armed and sometimes they kill people. I knew one man named Eusebio de Haro. A rancher found him cross ing his land and tried to hold him for the border patrol. Eusebio was a boy. He doesn't think much. He ran away. The rancher chased him a quarter mile and shot him dead. It didn't use to be like this, so violent like this....anyway, good luck my friend.
Aurelio Gonzales
Aurelio Gonzales
Okay. (Beat) What do I have to do
El Carpintero reaches into his pocket and pulls out a legal sized document and hands it to Aurelio Gonzales and sits him and his daughter down.
El Carpintero
Aurelio Gonzales
El Carpintero
Aurelio Gonzales
El Carpintero
She can tell you where to sign
El Carpintero is sitting around a table in a bar with Maria Tita Calderion, Aurelio Gonzales and his daughter.
We leave at eleven tonight, that when the guard change shifts. Every night we test the weak spot along the border and there are lots of weak spots. Don't worry about anything. I've been doing this since I was a boy. I traveled a lot from my town in to Monterrey to the south Arizona towns, looking for work on construction sites as a carpenter's assistant. All you had to do then was to make it across the river. After that, no one really cared. Sometimes the border guards would catch us crossing over. So I learned the paths over the hills where the guards didn't go. Now, I know the routes through south Arizona like the back of my hand. I use lights, the outlines of mountains or a line of high-voltage transmission wires as landmarks. (He takes a paid of pink panties out of a bag and stuff them into his pocket) These? No not for me! This is how we mark our trailheads, we hang them on a bush or a tree. They way, you don't get lost in the desert. And its easy get lost in the desert. People die. They drown, they get killed like this or like that. It's a risk of the business
They accepted the risk, so they have to accept the reality. I definitely don't feel guilty because I'm not causing harm to anyone. On the contrary, my friend I've been helping people to get out of this bad economic situation. I orient people. That's all I do. And in the United States what laws do I break? Immigration laws. Not criminal law. I don't steal money. I harm no one. Americans hate me, but here. I am a hero. The governments of Central America see what I am doing for their economy and they never do anything to get in my way. The Guatemalan, Salvadorian and Mexican economies are in really in bad shape. The people I bring over the border to the States send back millions of dollars. Cash. Two thousand, three thousand dollar a month. Sometimes more. You know how much is a bank managers salary in San Salvador? About $300 dollars American a month. I get the poor out of their country. That's the ugly truth. The North Americans think that not everyone south of the border is broke. We have very many millions of rich and middle class people. I help the poor. In their countries they have nothing to eat. They sleep in old cars or in open fields in houses made from boxes and paper and plastic. With the money I make and the business I bring to this town, I am a respected member of this community. People come to me for permission and advice. I finance political groups like any other business. This is very different from drug trafficking, which is illegal. You deal drugs in Mexico you can go to jail for many years. You can be killed very easy. But what I do is a legal business. I am a businessman. In Mexico, nothing of what I am doing is illegal. Yes, I pay the Mexican police and the Mexican army, but this is Mexican my gingo friend. Here, everybody pays the police and the army. And it's a good investment for me as well. I'm not so bad. I provide a valuable service to my people, to Mexico. Look, they're going to come with me or without me. And without me they might drown in the river, they get robbed by bandits, they get lost in the desert or maybe some coyote not as good as me locks them in a fright car with no air and they die. I'm not so bad. Sometimes, the coyotes, the very bad ones, not like me, but the bad people, they get the people out to the desert in the nighttime. The rape the women. Then they murder and rob everybody. Nobody finds the bodies because the desert is so vast, the animals drag off the bones. And nobody really cares anyway. They put people in tractor-trailers, railroad cars, and vessel cargo containers. Three people in a car trunk and one more behind the dashboard
Me? I take care of my customers, like the way the real estate agents in America take care of their clients. I give them my cell number and I tell "You have problems my brother, any problems, while you wait, call me, I will fix your problems" After people know he can produce results, you increase your business.
Aurelio Gonzales
We crossed into Arizona that night. There was, I think, at least twenty of us. At the border, we were loaded into a van, all of us and we drove into the desert because it was safer than the main roads where the police have checkpoints.
El Carpintero (Maria Tita and El Carpintero and sitting in the front of the van. Aurelio Gonzales and his daughter stand in the back. El Carpintero rubs his hands along Maria Tita's legs as he drives. The daughter turns her eyes)
El Carpintero
I have a wife, but she's in Monterrey. I could use a wife in the States too. Don't worry I take good care of you. In a good week I make three thousand dollars, more sometimes. And that after the bribes to the military and police so I can operate in Mexico. And you better pay or else. They soplones everywhere. You know what they call soplones in America? Snitches. They tell the cops
how much business each guide is doing. So you have to pay. You don't pay, they find you dead in the desert. (He makes a gun motion with his fingers and puts it to the back of his head)
The Americans too. There are some US Border Patrols who smuggle people too. Sometimes they have a deal with us to wave carloads of illegals right through the inspection lane. They get one thousand dollars per person but now the American government is starting to rotate the guards and they forbid them to use cell phones when their on duty. Still they can play rough, you don't pay....not good.
Police lights flood the van.
El Carpintero
Border patrol! Everybody stay calm. We stop. (He stops) Turn off the lights (He turns off the lights) Be still!
Aurelio Gonzales
Somebody panicked. They kicked open the doors and jumped out the back of the van, dragging us with them. I jumped back in the van but Carmen was still outside on the ground trying to get up when El Carpintero started the van and drove off very fast.
Aurelio Gonzales (yelling)
But he would not stop. Now the border patrol was chasing him and drove recklessly further and further away from Carmen and the others. I jumped out of the back and hurt my leg again. By then the border patrol had rounded up almost everyone. When the sun rose, in the early morning, I saw a pair of womens underwear hanging on a cactus.
(He looks up at Manjarrez and smiles) I went that way. Maybe one hour later I was arrested. I was getting ready to go on the bus back to Naco in Mexico when your men brought in El Carpintero. His face was all broken. I stared at him. He took everything I have. My daughter. My ranch. (El Carpintero, in handcuffs, is being led by a border patrolman) He laughed at me. I went blind in my rage. I reached over and drew the pistol from a guard's holster (He pulls out the patrolman's pistol) I fired. He fell down. Dead. Then it was my turn t laugh.(He looks up at Manjarrez) I am ready to pay for my crime.
I want you to know we found your little girl's body. She died of hyperthermia, heat stroke. Snake bite too, like you say, but it was the heat done it. I want you to know, I got my own little girl and your little girl, I promise you, will receive a proper burial. A Catholic burial. (Beat) Yeah, well....(Manjarrez opens a door and looks out a window) Out that door and across that street is the sovereign is Mexico. I have no authority there (He looks at his watch) Time for my dinner (He takes the handcuff off of Aurelio Gonzales. He tosses the faded yellow envelope at him) This here's the personnel belongings of El Carpintero. The law says it goes to next of kin of interested parties, which is you. Via con Dois (He opens the other door to the office, leaves and shuts the door behind him and returns after several seconds)
Aurelio Gonzales flips through the cash in the envelope and takes out the deed to his ranch
Manjarrez
I reckon you won't be coming back here to these parts no more?
Manjarrez exit. Aurelio Gonzales struggles to stand. He exit out the other door to Mexico.
THE END
NINE MONTHS IN THE LIFE OF MARIA CALDERION
| | |
| --- | --- |
| | No lines. They collect Maria 's daughter, pay and leave. They are Anglos. |
| | One line. A Hispanic male of any age |
| | One line. Hispanic female |
| | A single monologue. An older Hispanic female |
| | No lines. Hispanic male. Older is better to highlight the molestation since Maria is 13 years old when he takes her to the house |
| | The subject of the play. At the plays end and beginning she is 21 years old |
| | A Hispanic male in his late twenties even mid 30s. |
| | |
| | Should be played by a female. |
| | No lines. Three police/border patrol. All races okay |
| | |
| Woman who is raped by border patrol | No lines. Any age. Hispanic |
The Off stage voice over from the Washington Post is based on an actual news story that ran in the
Washington Post in 2007, under the headline "Arlington woman who pleaded guilty to killing her newborn daughter has been sentenced to 30 years in prison."
NINE MONTHS IN THE LIFE OF MARIA CALDERION
A police interrogation room. Calendar reads January.
Melvin Aguirre (Sitting in a chair, dressed in winter clothes)
I told you everything I know. I'm tired I want to go home. I don't know anything else. Please let me go home. I only know her seven months. We rented a small room together. A little tiny room. I noticed she was gaining weight but I didn't know she was pregnant. Nine months pregnant and I didn't know. Every time I asked her about it, she said she wasn't pregnant. I believed her. What happened that night? We were home. We each have two jobs, in the daytime job and in the nighttime job, but we were home because it was Sunday. Maria said her back hurt bad, that it was so bad she could not stand up. We didn't go to the hospital. We don't have money for the hospital, no papers, nothing. Maria went into the bath.
Melvin and Maria are sitting on a couch. Maria stands and enters the bathroom and shut the door behind her
She locked the door. I heard it lock. She never did that before. After about a half hour I knocked on the door I said
Melvin stands and walks over and stands in front of the door
Melvin (Shouting)
Maria! What are you doing?
Maria (Voice only)
I'm going to take a bath; it will make me feel better from this pain
About 45 minutes later, I knocked on the door again
There was no answer. Only silence. So I knocked on the door again and again and again and I called out her name
Melvin (Banging on the door and shouting her name)
Finally, she opened the door but she looked very different like she would faint
Maria opens the door and looks faint
I looked in the bathroom and there was blood everywhere, on the walls in the tub, everywhere. And there were wads and were wads of toilet paper on the floor. I asked her what happened
Maria, what happened? I was very concerned for her. I am always concerned for her.
She had a plastic bag in her hand. She walked past me and went outside where the trash is and when she came back inside the bag was gone. (He lowers his head in distress)
Offstage VO Washington Post Story
A 21-year-old illegal immigrant who killed her newborn daughter because she was afraid of losing her boyfriend was sentenced yesterday to 30 years in prison.
Maria walks, zombie like, out the back door with the bag and reenters the apartment without the bag. She walks over the couch, lies down, and falls asleep. Melvin sits back down on the interrogation chair
She went into the bed to lie down and she fell asleep. I went out to the trash and found the black plastic bag she had, I looked inside, and I saw the baby.
And that's when you called the police? Without leaving your name?
Yes. I was overcome with...how do you say? Shame? Guilt. It is a sin for a child to die.
And you told the reporting officer where the body was?
She presses a button on a tape recorder. Maria voice from the recorder. The body is in a bag, a black bag. It is an infant.
What's the address where you found the infants body?
The detective presses the off button on the tape recorder
Nothing personal, but you sound like a girl on the phone
That's not me. I made the other call. You make a mistake.
You be your ass it isn't you Melvin. It sounds like Maria , but she swears up and down it isn't her.
Offstage VO Washington Post Story
Maria Aguirre, who pleaded guilty in February to first-degree murder, told an

Arlington County

judge yesterday about her life in

El Salvador

, saying that her mother had died when she was young and that she started working on a farm when she was 10.
Light fades on Melvin and shine on Maria who is sitting on an interrogation stool. The Detective takes her finger from the tape recorder.
Maria (Dressed in winter clothes)
That wasn't me. I didn't call.
You called. It was you. What did he threaten to do to you Maria? Did he beat you?
He beat me sometimes, yes. But not that day. Maybe a little bit that day.
For everything. For nothing. I don't know. That's how it is for the woman, no?
He can't beat you anymore. Tell us what happened. We can help you.
Did he beat you and the baby died?
The Detective slaps a clear plastic bag that holds a mass of toilet paper, an inch in diameter. Maria gasps and looks away
Detective (Leaning down on Maria )
And the baby shoved this toilet paper down its own throat? Deep down in its own throat. The coroner told me he it was jammed down so far into that infant's throat that he had to use surgical tweezers to get it out…now how did that happen?
Maria (Hearing the details, she breaks her trance and looks at the floor)
Did Melvin shove the toilet paper down the baby's throat, Maria?
Did Melvin force you to do it? Tell me the truth Maria. We'll protect you. I swear.
Maria (Shaking her head, eyes wide open)
I don't know. I don't know. I don't know. I don't know.
Maria, if you did this, on your own, then it is murder. We will charge you with murder…did Melvin make you do this to the baby?
I don't know. I don't know. I don't know. I don't know.
Maria and Melvin are in the apartment. His arm is in mid air.
I'll smack you again! When does the baby come?
I think now…please help me….it hurts so much. I have to sit down. Please God, it hurts.
Offstage VO Washington Post Story
Prosecutors say 21-year-old Maria Aguirre told police she killed the baby because she was afraid her boyfriend would leave her if he found out she was pregnant with another man's child. At her sentencing Friday, Aguirre told an Arlington County judge that her mother had died when she was young and that she started working on a farm when she was ten years old. She said she came to the United States illegally and that the baby's father was a man who helped her and other illegal immigrants sneak into the country.
She turns to walk towards the couch. He grabs her by her hair and pulls her back and beats her to her knees.
I've been with you for seven months. You don't have a baby in no seven months.
He hits her again. Pulls her up by her hair
He hits her again and slams her head against a wall
Please Melvin don't he hit me no more because of the baby, you could hurt the baby
He still has hold of her hair
Whose baby is this? I swear to God, I'll kill you
They made me, Melvin. They said if I don't sleep with all those men, they would leave me in the fields. Please Melvin
You think people are going to laugh at me? Do you? Is that what you think?
No, they won't laugh at you…they won't know
That's right they don't know Puta!
He drags her into the bathroom. He slams the door shut.
Melvin (Voice only)
You gonna tear it out of you!
Maria (Voice only)
No Melvin, no please…. no please…. no please….
The stage goes dark. The lights come back up. Maria walks out of the bathroom zombie like. She's holding a black plastic bag. Melvin comes out of the bathroom behind her. They are both covered in blood.
You shove that down the throat good enough like I told you?
Go throw it in the trash and get tight back here. Don't let nobody see you do that.
Maria sits back down in the police interrogation chair
I don't know what happened.
Did Melvin force you to do anything?
If he knew about the baby, he would throw me out. I have no place left to go. It's not his baby. The baby started to come. I told him I was sick. My back hurt and I need to go into a hot bath. She climbs into an imaginary tub. I did and the baby came. I had a knife from the kitchen. She holds up a knife. I cut the cord. She cuts the cord. The baby was gasping for air. She is holding the baby in front of her. I begged the baby not to make a sound. But she kept gasping for air and making noise more and more. Melvin banged on the door
Melvin (Banging on the bathroom door)
To make the baby be quiet I folded the put the toilet paper. She folds the toilet paper. And I slid it down her throat. She slides it down the infant's throat. I knew it would die eventually.
And Melvin did not assist you in anyway in killing the child?
There is a very long pause
Whose child was it? Who was the father?
Maria (Looking straight ahead while she speaks, trance like)
I have a daughter. (Beat) I know who her father is. I don't know why he is her father. I come from El Mazata in the south. One day my grandmother came to me and she said
"We have to run the caves because the soldiers are coming and they will harm us. But when we are in the caves you must not cry ot speak or make nay noise at all"
Maria
We were in the caves for a long time I remember. When it was safe my grandmother took us to the village (She walks out of the cave) but everyone was there was dead. The soldiers killed them all. They killed everyone. We could not find my mothers body to bury her.
She shifts threw imaginary debris
Maria
(She starts walking) We left the village and walked toward the main road. We were in a field, an open field. It was very peaceful. You could hear only the wind and my grandmother weeping. Suddenly soldier leaped up from the tall grass and fired their guns at us. My grandmother threw me to the ground and threw herself on top of me. I felt her warm blood pouring down in my hair. I waited a very long time under my grandmother. She was dead. I came out from under her and I sat with her for a very long time. The next day I walked to the main road. There were many people on the road all going in one direction. The soldiers had come to their villages too. I followed them. An old lady like my grandmother she took my hand and I walked with her. We walked to the department of Santa Ana in the north. There was work there, in the fields. So we all went together. It took many days and we arrived there tired and hungry. (She lies down) We slept that night in the barns and went to work in the fields the next morning. (She gets up and takes a machete in hand and starts to cut sugar cane) We cut cane sugar all the day. We worked from sun up until sun, and the sun is down, all the days. At the night, I bunched it and collected the cane. (Maria bunches and collects the cane) That means the owner of the fields can call them helpers and not workers, so he don't violate the law. But even when the men are there, it's hard to find people to work in the sugar fields. The work is grueling. (She is still cutting) You have a sharp knife, a very sharp knife and you bend and chop the cane stalk at its base, as low to the ground as you can. But the ground is always wet, a wet muck, if you slip you can cut out your own eye. It happens all the time. (She demonstrates as she talks) When you cut the stalk, you have to reach and pull it up and toss it on to the pile far behind you. And that is what you do under the sun all day long; stoop, cut, stand, throw, stoop, cut, stand, throw, stoop, cut, stand, throw.
She stops collecting and looks up
When I was still a little girl, the white man who owned the fields came. His name was Don Diaz.
(Don Diaz in a summer white suit talks to the grandmother) He told me I would work in his house for him. He said that it was not good for a child to work in the fields. It could be trouble. (He takes her by the hand) So I went with him. (She lies in a bed) I slept in a bed in the far upstairs. He came to my room at the nighttime. (The man comes in. The stage goes dark) He came there a lot when his wife is asleep. It hurt sometimes and then one day the baby was there.
The lights go back on. She is pregnant
Maria (She sits in a car)
Don Diaz, he put me in the car...I was never in a car...and we drove back to San Salvador.
She stands and walks into the house with the man in the white suit
He put me in a house with a coyote for adoptions. And then he left. I never see my grandmother no more after that. I have money for her.
She reaches into her bra and takes out a pile of cash and then places it back in her bra
Maria (She is holding a baby, the coyote, his wife and three Christians come in)
One day the baby she comes. The coyote came with Jesus people, you know? Christian people from the adoption company. The take-ed the baby and tell me that they gave me money that the money they are giving her is because they are Christians doing a good. They give'd me five hundred dollars in American money. They said that someday, I can have my baby back (She stops and looks at the detective) but that not true. You have to careful of all the peoples. They lied all the times. They coyote and his wife, they took the money. They said it was for feeding me. One day, they said to me
You need to go. You cannot stay here no more because other girls with babies are coming
I tell her I have no place to go
Go wait outside on the street for a man called El Carpintero, that he will help me."
In the nighttime, El Carpintero came and he says me that he is taking people to America. He told me I was pretty and that there are many men from my country in America who wants pretty women for his wife. He said that the husband I find will pay him for taking me.
Aurelio Gonzales and his daughter stand in the van
Maria
That night we left for Arizona in the United States. In a van. Twenty of us Sixteen of us. You could not breathe. They had to take turns sitting because there was not enough room on the floor. We crossed the Desert. It was so cold. Some of the people in the van went to sleep and did not wake up because of the cold. Later, the driver left them by the side of the road. In the day, the heat on the roof was too much. I thought I would die. When we were driving, a border patrol put their lights on us. El Carpintero stopped the van and turned off the lights but the people in the back they panicked. They pushed opened the doors and disappeared into the desert. We stopped and we ate in a McDonald's restaurant there. (Maria and another girl walk across the stage) Me and another girl, we used the bathroom and when I came out everyone was gone but me and another woman I didn't know from before. (Two Border patrolmen in sunglasses arrive on stage) The American boarder patrol was there. El Carpintero told us to go with them in their truck. We went. (The four go to a dark end of the stage) They took us to a parking lot and they raped us. (They come back to the lighten part of the stage) When they were finished, they took us back to the McDonald's. We were crying. (The border patrolmen leave. The other woman exits)
Shut up! (He slaps her) This is how pay for your ride You think you came for free?
Then he drove us to a hotel. For many months, we went from hotel to hotel, state by state, in Oregon it was apples. Men who work in the fields picking the apples would come by the hotel at the end of the night and pay him to use me and the other girls. Always there was a lot of men. It was the same in Florida and Idaho and California and Texas. Always the American border patrol would come and have sex with us. One day they came, three of them (Three border patrolmen come to the door all wearing sunglasses) and they beat El Carpintero. They beat him very badly, with bars and flashlights. I don't know why they beat him. They just did. He opened the door to the room and they began to beat him.
Border Patrolman
You need to learn to pay your bills on time boy
They raped us and they left. They coyote he was lying on the floor. There was blood everywhere. I don't know if he was dead. I hope he was dead. I went through his pockets and I found money. A lot of money. I took the money and I said to the other girls "Come on! Let's go" But they were sacred. They said "No. What happens when he wakes up? He will find us and beat us more, or kill us or he will make friends with the border patrol again and they will find us. And besides...where will go? We know nothing. We know no one. Where will we go?" But I went anyway. I took his money and I went. I went to the town and I found the Priest. He spoke my language but he was white. I sleeped in the church basement with many other womens and children. I felt safe and happy. We cleaned the church in the day and cut the lawn and make it look nice. We made good beans for the Priests. They, the women, they told me that to work you must have papers, so they took me to a man, a black man, and I gave him $500. he took my picture and a little while later he gave me immigration papers and a social security card. We took the bus to the orchards in the Columbia River Valley to pick apples in Washington State, which is far to the north. There were hundreds and hundreds of us but there were white people and North Americans working too. I spoke to them sometimes. I never spoke to a North American before. They have so many apple trees there! More than you can count. The work is hard, especially for the old. There is no bathroom in the fields. We lived everywhere. Sometime sunder a bridge, sometimes under a tree. When it became cold I paid a man to let me live in his trailer with six other men. I paid him five hundred dollars a month. After two months there was no more work, all the apples were gone. I followed my friends to Indiana to pick strawberries. We slept in a field until the police came and told us to leave. There was a store there and the man charged us fifty dollars to use the bathroom for fifteen minutes. He sold water for five dollars a bottle. We had to pay because the only other water is from the irrigation ditch in the field and it smells. Picking strawberries was very hard work. You crawl on the ground all day from sun up until four o'clock. It's very hot in the fields and if you don't move fast the foreman will fire you right there, right in the field. The fuzz on the underside of the leaves cuts your hands and they bleed all the time and they become so big like balloons. If you eat the strawberries, you get diarrhea and there is no place to go in the fields. But I became good at it and I made four dollar an hour. I made more money then all the others. They pay us in a check and the man in the sore he charges fifty dollars to cash your check. We eat all our food from the store. Hotdogs and slurpees and slim Jims. Yahoo soda. Its very good and it was good to live good too. To not be hungry. To have money you earn with your hands. One time we took the bus to Oxnard to a shopping plaza. I bought this baseball hat. (She removes it and hands it to the detective) The New York Yankees baseball hat. And a blanket. A red blanket. I was hungry more in those days because the baby was there then...I was pregnant then. But I didn't know. I think maybe I was growing fat.
From there we went to Michigan to cut asparagus because the pay was so good....eighty-nine dollars a week and they have toilets for the women in the fields. Little plastic yellow houses. I worked hard and I made money. One day I bought these (She proudly shows her sneakers.) They are American.(She says the next lines as though bragging at her superior cultural knowledge) All the American's wear them. That's how you know they are Americans. I bought a US entry visa for eighty dollars.
From there we went to China Grove, North of Carolina and I was hired as trainee to labor in a celery harvest. At first, I only stapled celery boxes shut and loaded them onto a truck. But soon I was also cutting, tying, and boxing celery bundles. The foreman was very mean. He yelled all the time "Move, move, move. Faster, faster, faster." He didn't give us time to rest. Every hour he moved us around from cutter to bundler or boxer to stapler or loader. I felt sick and very tired all the time in those days, I think now because of the baby. When we got-ted to tired to work he gave us pink pills. I took a lot of them. But they made me shake very much and one day I accidentally cut my hand just above the thumb when I was chopping a bundle of celery with a two-edged knife. The bleeding was very bad and would not stop so they drove me a clinic. The cut was stitched closed, and I was given a needle and pills for the pain. When I went to work the next day, they would not let me in the gate. They gave me my paycheck and told me to go away. They did in to warn the others to be careful and not to get hurt and cause trouble.
I found another group and we went to Virginia pick blackberries, but I wasn't hired because of my hand. So I went alone to the tobacco fields where I was told they needed people to work. They hired me. I had one thousand American dollars. It is to buy back my daughter from the Christian people when I go home. On day, my girlfriend said to me that when the cold weather came to Virginia that it was a terrible thing. She said that in the winter in Virginia it was better to work inside. I never saw the winter but I believed her. She said that she had a sister in Washington DC who could get us jobs cleaning office building because our papers looked real. So we went to Washington DC to live and work. She was right the winters are a very cold thing.
Cleaning the building's I met Melvin.(Melvin enters and holds her hand) He was very kind to me at first. I was never in these building and they are so big. I was lost all the time. He laughed at me and one night he took me home. He told me I could stay. I was very happy. I gave him my one thousand dollars and we took the bus and bought many things at the store for our little room. I had a home. I was happy. He was very happy and then....(Melvin frowns, releases her hand and walks away)
She looks off into the distance in a trance
She was going to be a girl. Like me. I gave her my name because it was the name of my mother and her mother, Maria Calderion...Maria Calderion. That was what I called her before.....and she looked at me.
Maria Calderion I am arresting you for murder. You have the right to remain silent anything you say…
Maria stands alone on the stage. She looks very young. Childlike. The stage goes dark except for a single light on her face.
Newscasters voice from the television
In other news, an Arlington woman who pleaded guilty to killing her newborn daughter has been sentenced to 30 years in prison. Prosecutors say 21-year-old Maria Alverez told police she killed the baby because she was afraid her boyfriend would leave her if he found out she was pregnant with another man's child. "I want another chance," Alverez told the judge. Circuit Court Judge Benjamin N.A. Kendick imposed a life sentence with all but 30 years suspended. Alverez will be fifty-one years old when she is released from prison.
The light closes. The stage is dark
Offstage VO Washington Post Story
Maria Aguirre, who pleaded guilty in February to first-degree murder, told an

Arlington County

judge yesterday about her life in

El Salvador

, saying that her mother had died when she was young and that she started working on a farm when she was 10. She detailed her illegal entry into the

United States

, saying she was impregnated on the way by a "coyote," a person who charges immigrants money to help them sneak into the country. "I want another chance," Aguirre told the judge. Her defense attorney said that Aguirre wanted to be with a daughter in El Salvador.
Circuit Court Judge Benjamin N.A. Kendrick imposed a life sentence with all but 30 years suspended. The infant's body was found April 1, 2006, stuffed in a trash bag outside the

Arlington

home where Aguirre and her boyfriend, Melvin Portillo, rented a room. A mass of tissue paper, two inches long and an inch in diameter, was found deep in the baby's throat during the autopsy. Aguirre told detectives that she killed her baby and that she had not told her boyfriend of seven months that she was pregnant because she was afraid he would leave her when he found out the baby wasn't his.
Aguirre locked herself in a bathroom in the house in the 3700 block of South 16th Street and gave birth by herself, tearing the umbilical cord before disposing of the baby. Portillo testified at the preliminary hearing that he noticed Aguirre was gaining weight but that every time he asked her about it, she insisted she wasn't pregnant.
The day Aguirre killed her baby, Portillo said she complained of a severe backache before locking herself in the bathroom, saying she was going to take a bath to try to alleviate the pain. He went out with a cousin. When he came back, she was still in the bathroom, he testified. He knocked repeatedly and called out her name until she unlocked the door, he said. Portillo found blood in the bathtub and wads of tissue paper stuffed in a trash bag, he said. Aguirre told him she was hemorrhaging but that she would be fine.
When Aguirre took the trash bag into the kitchen, Portillo found the placenta in the bathtub and wrapped it in another trash bag, although he said he had no idea what it was.
Portillo said he insisted they go to a hospital; Aguirre eventually agreed. At the hospital, it was determined that she had just given birth. While she was at the hospital, the owner of the home found the baby in the trash bag and called police.